Vinci & Rakos Bath Care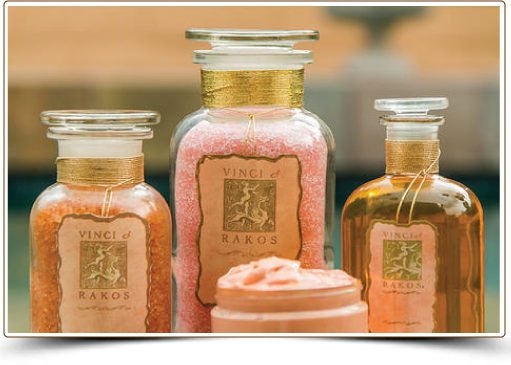 Most of us do not have the time or the patience to relax and take a bath, when a shower is so quick and easy.  In addition to relaxing our bodies, baths help to soften and prepare our skin for much needed exfoliation, moisturizing and conditioning.  To help rejuvenate your skin, skip the shower process once a week and take a bath instead.
There are many beneficial formulas and aids to choose from depending on your mood or skin care needs:  Therapeutic or Moisturizing Bath & Shower Gelee, Purifying & Detoxing Bath & Salt Rub, Rejuvenating Bath Crystals, Sensual & Soothing Bath Oil, Exfoliating Body Smoother, Oatmeal Pumpkin Spice Scrub, Shea Butter Enriched Soaps, Wood Inspired Soaps, Ayate Exfoliating Buffing Cloth and Red Mountain Mud Treatment.  Taking a bath on a regular basis not only helps soothe your skin but your mind and encourages relaxation.  Depending on the condition of your skin, remember to add your favorite gelee, oil or salt to your warm bath water.  Lite a scented candle, perhaps pour a glass of wine or a cup of warm tea and just relax.  After bath or showering, moisturize your skin while it is still damp to help lock in moisture and enhance the appearance of soft, smooth and conditioned skin.  Choose bath and body care scents that will fit your mood and personality.