Earth Parfum by Vinci & Rakos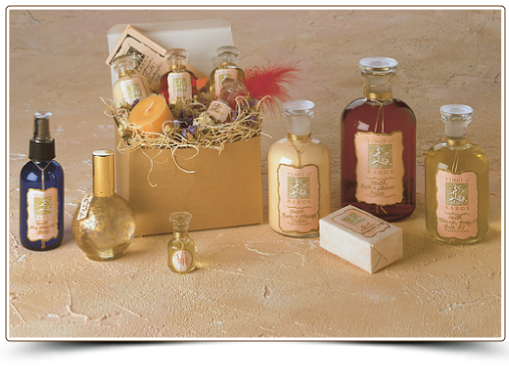 When Dolores opened her Los Angeles specialty boutique and gift emporium in 1991, she featured a personalized Fragrance Bar. The Bar highlighted Complex Blended and Single Note Expressions in the form of straight Parfums. At the Vinci & Rakos bar, clients could sniff and smell until they found the scent best suited for them. It didn't take her long to realize that she was missing a warm and sensual scent that could be worn by both men and women. Lucky for Dolores that two of her very creative and fragrance savvy clients agreed with her. Both the man and woman were executives in the happening LA and NYC music industry.
The three of them remembered a musky type scent that had been sold by a street vendor in New York City many years ago. It was a great starting point but the scent was a little too Woodstock in its delivery. With that concept in mind, Dolores blended together warm and sensual notes, earthy delights and added a few floral accents. At that point, it was time for Dolores to work with one of her fragrance houses (vendor) to have the blend fully developed and defined. Together, they created her warm and sensual Earth Parfum loved by everyone for its combination of sensuality and freshness. Quickly it became the signature scent of Vinci & Rakos * Who Makes Sense? and was featured in many magazines and worn by Hollywood celebrities, both men and women. Los Angeles Magazine even called it "sex appeal in a bottle".  The scent of Earth was also the base for many of her personalized parfums because of its sensuality, and clients love a touch of Earth added to their floral blends.   Thirty years later, Earth is still the signature scent of Vinci & Rakos * Who Makes Sense?

Earth – A warm and sensual combination of white musk and earthly delights with a hint of floral accents. It is warm and sensual but at the same time devastatingly fresh and clean smelling. Both men and women find Earth arousingly exciting. One musk whiff will have you coming back for more.  The scent of Earth allows everyone's personality and body chemistry to come through creating a more individual and unique fragrance experience.

………………….Dolores M. Vinci, Los Angeles, 1992

Earth has been the Signature scent of Vinci & Rakos * Who Makes Sense
for over 30 years.