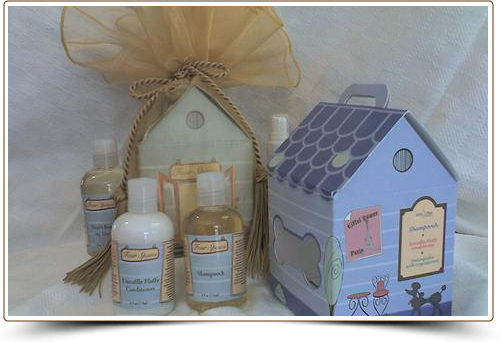 Four Spaws Dog Grooming Line
It's time for you to be thinking about man's best friend and the products that will help make your dog's life more comfortable. The Four Spaws Dog Grooming line was created with the same love and concern as our body and bath care products and is scented with doggie friendly fragrances. All four products can be purchased in a Dog House Gift Box or individually.

Shampooch – a tearless and moisturizing shampoo.
​
Unruffle Fluffly Conditioner – softens and shields coat
​
Detanglefur with Dogoderant – a freshening, non-alcoholic spray
​
Don't Bug my Dog! – natural insect repellent spray (does not contain Deet or other pesticides).
​
Four Spaws Dog Grooming House – all four products presented in a Gift Box. Great for your favorite pooch or for gift-giving.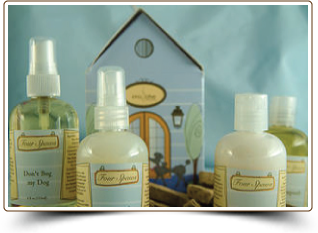 Four Spaws Dog Grooming House
A playful dog house full of special dog grooming products. Featuring 4 fl oz bottles of Shampooch, Unruffle Fluffy Conditioner, Detanglefur with Dogoderant and Don't Bug My Dog! Presented in a colorful Dog House Gift Box, perfect for gift giving or for your very best friend.  $39.50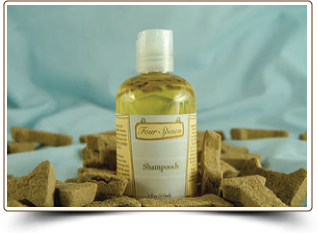 Shampooch
This no tears, extra-rich conditioning shampoo cleanses and deodorizes even the dirtiest dog. Shampooch rehydrates the coat and leaves a luster and shine all dogs will envy. Just a small amount of this specially formulated, lightly fragrant shampoo creates a rich lather that cleans thoroughly while enhancing your dog's natural coat and color making it shine with health and vitality. Contains natural conditioning oils to deeply moisturize and leave their coat soft as silk. Shampooch is tearless so it's safe for puppies too! Follow with protein and vitamin rich Unruffle Fluffy Conditioner. For extra conditioning, freshening and deodorizing benefits, follow with an application of our special Dogoderant with Detanglefur.  4 fl oz $8.50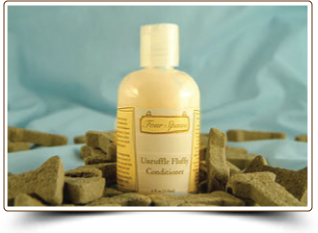 Unruffle Fluffy Conditioner
Apply after using no tears Shampooch. This fluffy conditioner is rich in proteins and vitamins that provide the shine and brilliance your dog's coat deserves. Extra luxurious conditioners soften and shield the coat from harsh environmental agents. For added conditioning, freshening and deodorizing benefits follow with an application of our special Dogoderant with Detanglefur.  4 fl oz $8.50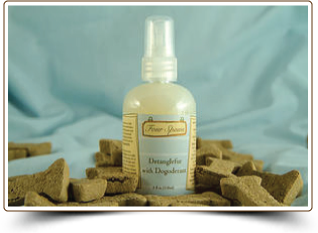 Detanglefur with Dogoderant
Use as an extra conditioner after bathing or as a daily refresher. Freshens and deodorizes while replenishing moisture and balance on a daily basis. Helps protect coat and skin from environmental influences while plant proteins penetrate and fortify the coat for enhanced manageability. Just a spritz or two of this special deodorant freshening spray between baths and your dog is suddenly fresh and fragrant! Conditioning agents are blended to create a spray that's gentle enough to use as often as needed. It contains no alcohol, so it will not dry out the skin and coat.  4 fl oz $9.50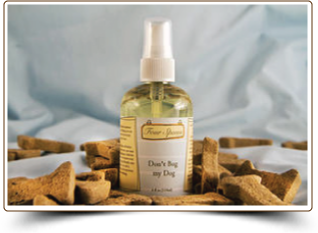 Don't Bug My Dog
An effective blend of natural oils, Dont' Bug My Dog will help provide excellent natural protection from fleas and ticks. This insect repellent spray for dogs is a safe and easy way to repel mosquitoes, gnats, biting flies and other flying insects. Citronella, Lemongrass, grape, olive, peppermint, lavender, rosemary, safflower and aloe essential oils are blended to help keep your pet safe from diseases such as West Nile. You and your dog will rest easy know that this product does not contain DEET or other pesticides.  4 fl oz $9.50