Collectibles  *  Decorative Boxes  *  Surprises
This section will feature one-of-a-kind collectibles, unique boxes and anything that will stir the imagination of my clients. In addition, any item that will help make their life a little easier or more fun will also be included. "Surprises" will be added on a regular basis to help stir the imagination and the senses.
Decorative Angel/Cherub Pillow
A beautiful, over-sized, decorative pillow designed with a repetitive pattern of angels/cherubs that seem to be floating on clouds on the front of the pillow. The color of the pillow is a sand beige and greyish combination to create depth……..and the fabric has a texture so the angels/cherubs are slightly raised to the touch. The back of the pillow is in a beautiful textured greyish color. The extra-large pillow measures 27 x 27 inches square and around 6 – 8 full and is trimmed with a festive fringe and weights a little over 3 pounds.  $75.00


Masked Lady Pill Box
Years ago, I purchased a Masked Lady Pill Box at a Charity Event that supported young, gifted pianists. This unique Pill Box is fashioned after the Judith Leiber type of boxes and purses. It has a gold mental finish adored with a masque made of black stones, highlighted with pink and white rhinestones around the top and sides. The back is highlighted with little bunches of pink rhinestones. The size is 2" x 2" x 2" and weights around 1.3 oz and opens at the top. The Pill Box was in the collection of a woman who loves small pill boxes and ring boxes but decided to part with it to help her favorite charity. Packaged in a lovely, organza, beaded drawstring bag. (1 available) $95.00
SOLD

SOLD

Rochard Limoges Heart Box
Rochard has been connected with exquisite hand painted porcelain Limoges boxes from Limoges, France since 1973. This Vintage Rochard Limoges Heart Box was received as a gift over 25 years ago. It was created in a delicate floral design, highlighted with gold screening and double flower metal clasp. Inside of the box is painted the following: "Hand Painted Rochard Limoges France". Size: 2"L x 1 1/8"H x 1 ¾"W and presented in a burgundy felt bag. Perfect for the collector of porcelain pieces. (1 available) Priced reduced from $179.50 to $139.50.

Lalique Fish Sculpture in Opalescent #13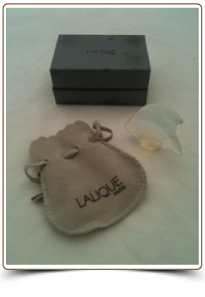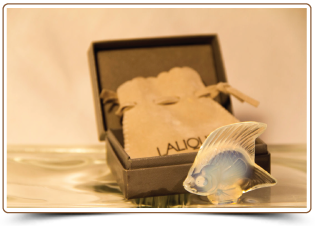 If you are a lover of crystal and collectibles, the Lalique Fish #13 in Opalescent, is the perfect fish to start your collection. The Fish Collection was designed by Rene Lalique in 1913, over 100 years ago. He was a French glass designer known for his creations bottles, vases, jewelry, chandeliers, clocks and automobile hood ornaments. This particular Fish is over 30 years old and has the original #30013 sticker on the bottom of the crystal. Packaged in the original Lalique Paris suede pouch, the size is 1.77" H. The Lalique box is also the original and is closeable but the outside met with discoloration due to age and the elements. The Lalique Fish series is still being offered on the Lalique website for $99.00 each. (1 available) $85.00.


SmartClips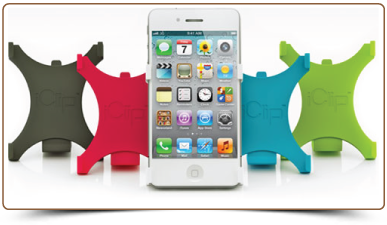 My friend has a patent pending mobile phone accessory for the iPhone 5, iPhone 4 and iPhone 4S. The idea came to him one day as he was driving realizing that he could design a product that would allow someone to clip their iPhone to the visor of their car. In addition, the SmartClip can clip, stand or recline your device in multiple ways and has multiple uses at work, home and play. Wire management neatly stores headphones. The SmartClip is produced with recyclable materials, and designed and manufactured in the USA. Made of high quality durable ABS plastic with horizontal and vertical orientation.   The SmartClips are usually priced at $18.95 for one. Special introductory price for my Who Makes Sense? clients: $19.50 for three (3) or $9.50 for one (1).