Welcome to Who Makes Sense?, an online specialty boutique and gift emporium created with a European flair, reminiscent of the store Dolores had in Los Angeles many years ago. It was at this store where she launched her Vinci & Rakos fragrance and product line. Dolores offered items to lose yourself in luxury, realize your fantasies and "awaken and stimulate" the senses — smell, touch, sight, sound, taste, spirit and sometimes even your sense of nonsense.   Many of her long-time clients asked Dolores to offer the ceramic and gift items that she had originally available in her store.
Therefore, The Who Makes Sense? Online Store features unique and one-of-a-kind items, such as paintings, prints, crystal, ceramics, jewelry, collectibles and books. If known, the history or story of the item will be included by Dolores. The one-of-a-kind items will change on a regular basis, as they are sold, then replaced with new finds. When available, women's and men's fragrances that have been discontinued by cosmetic and fragrance houses will also be featured. In addition, Dolores will be on the lookout for new products and concepts that she will also feature on Who Makes Sense?  With your order, you will receive a gift from Vinci & Rakos.  Click on the Vintage Finds button on the top Menu to connect to Who Makes Sense?
Note:  Italian candies, handmade incense and doggie care products will be presented on the Vinci & Rakos section of her website, along with her fragrances and body care products.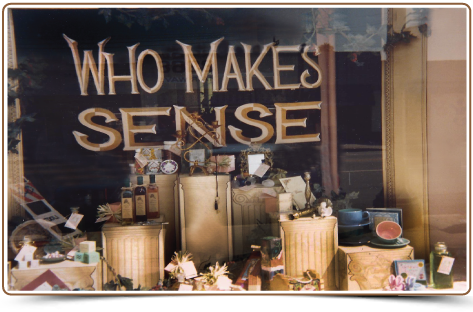 Note:
  The Who Makes Sense? Store features unique and sometimes one-of-a-kind items.Therefore, it will be necessary for you to contact me to indicate your interest in a particular item and its availability, and if you have any questions.  An easy form will appear after you click on the item which will be sent to me. Some of the items are oversized, so the proper method of shipping and handling for any of the items will be agreed upon before your order is completed.  I will contact you to confirm the item you are interested in, its availability, as well as the shipping options.  Once agreed, your Credit Card will be obtained and your order shipped.  If a Discontinued Fragrance or a Vintage Fragrance is purchased and the item contains alcohol, the item might have to be shipped by UPS Ground Track or USPS Standard Post.   (None of the Vinci & Rakos products contain alcohol, however, most of the fragrance products on the market today do contain alcohol).  Remember, please contact me with any questions.  Have fun browsing, Dolores

Click Product Images Below