Vinci & Rakos
Dry Body Spray  *  Sheer Spray on Lotion  *  After Shave Spray on Balm
Three unique and beneficial formulas to choose from that are the perfect light carriers for your favorite Vinci & Rakos Parfum. These non-alcoholic, full bodied and moisturizing blends take the place of commercial, cologne/alcohol based formulas that are drying and lack fragrance depth. Choose the formula that fits your individual needs and the time of the year.
All the formulas are perfect for both women and men.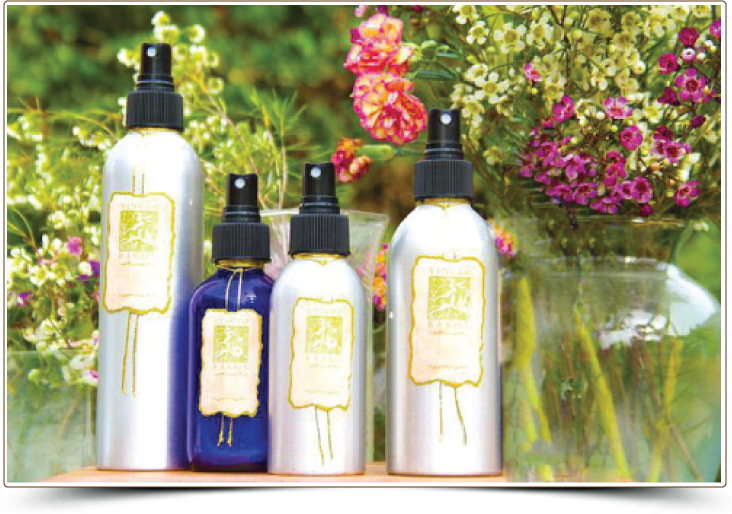 Dry Body Oil Spray
The perfect after bath or shower emollient for beautifully scented skin. This scentsational oilless oil contains Vitamin E, Beta Carotene and smoothing ingredients to help make the formula softening and beneficial. A very unique, non-alcoholic spray-on formula that dries quickly but leaves a wonderful, light cushion of protection on your skin. It has moisturizing benefits and allows your favorite scent to be pronounced and true. You will give up alcohol based colognes once you have experienced this sensual blend. A client favorite for 25 years.
 4.0 fl oz $39.50   *   7.5 fl oz $49.50   *   9.3 fl oz $59.50   *   16.3 fl oz $99.50  (New Size)

Sheer Spray on Lotion
The exact formula for those who prefer a lotion over an oil type carrier for their scent. Sprays on a light mist of creamy white lotion that goes on slightly wet and cooling. Dries quickly with a smooth and scented finish on the skin. This non-alcoholic formula contains beneficial ingredients and extracts, such as Chamomile, Lavender, Lemon Balm, Aloe Vera, Algae, as well as Vitamin E and ProVitamin B5. Leaves your skin feeling fresh, conditioned and perfectly scented. Great for humid climates.
4.o fl oz $39.50   *   7.5 fl oz $49.50   *   9.3 fl oz $59.50   *  16.3 fl oz $99.50  (New Size)

After Shave Spray on Balm
The perfect way to end your shaving experience. Soothing Allantoin and the natural humectant of Glycerin plus sea and botanical extracts help to rejuvenate the skin. Spray into the palm of your hands, rub hands together, then gently pat onto your freshly shaven face.   If you desire, rub onto your neck and arms for up uplifting,  softening and scented experience. This non-alcoholic balm helps to soothe, soften and refresh irritated and shaven skin. It is lightly scented in the fragrance of your choice.
4.o fl oz $39.50   *   7.5 fl oz $49.50   *   9.3 fl oz $59.50   *  16.3 fl oz  (New Size)