Vinci & Rakos Packaging Choices
The Vinci & Rakos Body Care and Bath Care products were originally introduced in beautiful glass containers with glass stoppers, perfect for gift giving. However, many of Dolores' long time clients asked her to also offer the formulas in plastic containers, and could she find dispensing pumps to fit into the glass bottles.
Great news! Many new packaging and size choices are available for the lotion, gelees, oils and smoother formulas to fit the changing needs of the clients. Dolores now offers her products in beautiful crystal clear plastic bottles, as well as glass bottles with handy dispensing pumps, perfect for use at the tub, shower or as a gift. When ordering, we can discuss which style and bottle design works best for you.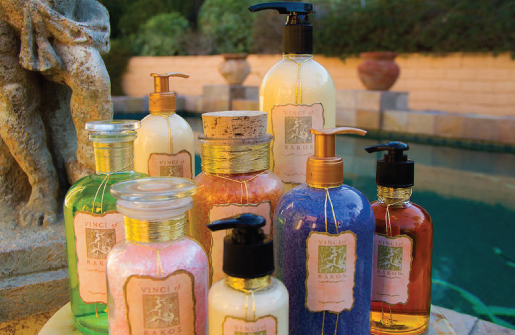 The sizes and types of packaging are indicated below:
8.4 fl oz (glass bottle or plastic bottle with dispensing pump)
13.5 fl oz (glass bottle with dispensing pump)
16.9 fl oz (glass bottle with glass stopper or plastic bottle with dispensing pump)
29.5 fl oz (glass bottle with screw cap)
33.8 fl oz (plastic bottle with dispensing pump)
24 oz (cork top or glass stopper for the bath crystals and salts apothecary bottle)
Vinci & Rakos Gift Wrapping and Charges
Items ordered from the Gift Box and Gift Basket sections on the website have the Gift Wrapping included in the pricing.
You can order Gift Wrapping for those other products that you want to send to a friend or family member as a gift. The Vinci & Rakos Gift Boxes are elegantly wrapped with beautiful, wild-crafted raffia, silk flowers and adorned with a personal gift card. The inside of the Gift Boxes contain natural straw that surrounds your gift lovingly, accented with crushed natural flowers with a sprinkle of scent beads. Your gift can be beautifully wrapped in either a Gift Box or Gift Bag depending on the size of your gift. We will determine the size of the box or bag necessary to wrap your gift. Therefore, your cost for gift wrap may vary from your original order total.
Gift Wrapping charges usually range from $2.50 to $12.50.  Specialty Gift Boxes, Travel Cases and Memory Boxes will be priced accordingly, as well as oversized packages.  Just contact me either by phone or send me an email by clicking the Contact Button and let me know your needs.