China * Porcelain * Ceramics * Stone
Vintage and hard-to-find vases, planters, cookie jars, bowls, dishes and plates will be featured. Many of the pieces were created from ceramic kilns that no longer exist, making the pieces extremely rare. This section will be very exciting to view on a regular basis since new "finds" will be added frequently.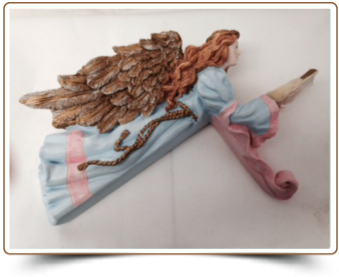 Vintage Guardian Angel Wall Hanging
Charming "guardian angel" has been specially designed to perch on a door or window frame. Made of hand-painted resin, she has a heavenly blue robe, iridescent wings and a golden book and sash. To hang, position her so she appears to be resting on the desired frame, then, using her gold tone hanging hook, secure her to the wall with a nail. Avon 1999 – 1 lb 3 oz and 8" Wide and 6" Tall and 2" Depth. Very rare and unique — $55.00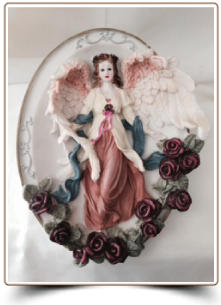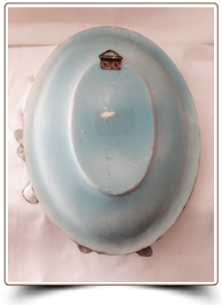 Vintage Angel & Roses Wall Hanging
Unusual and unique Angel design with wonderful detail of her face and wings that almost looks like cloth instead of porcelain or ceramic. The roses and leaves are so colorful that they seem to come alive. This vintage Angel has a sturdy hook embedded in the back which makes it just perfect for hanging. Weight: 1 lb 8 oz. Size: Vertical: 8", Horizontal 6" and 1 ½" Wide. $49.50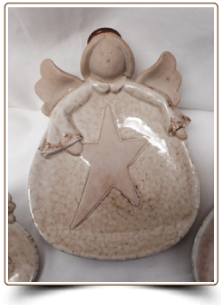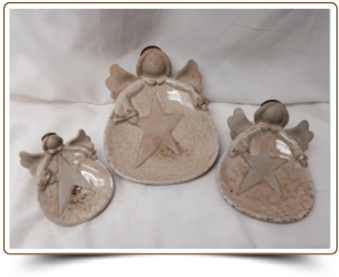 Angel Ceramic Trays
Three sturdy but whimsical Ceramic Angels Trays that are just perfect for holding your spoons while cooking or your relishes or dips when entertaining. Small – 5.5 oz; Medium 11.4 oz and large 1 lb 7.5 oz. Set of 3 for $49.50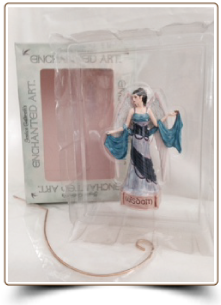 Enchanted Art of Wisdom – by Jessica Galbreth
Fantasy artist Jessica Galbreth designed this collectible Angel Fairy figurine that can either stand or be displayed. 5" tall. $29.50.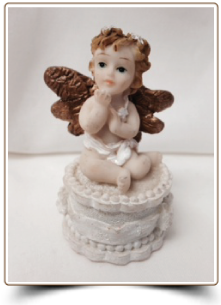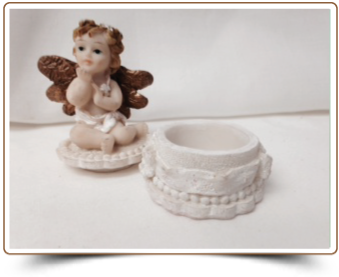 Adorable Angel Trinket Box
Adorable Angel Trinket Box where the Angel is blowing a kiss. She has beautiful gold wings and sits preciously on the base to hold your precious ring or earrings. 3" Tall and 2.2 oz. $19.50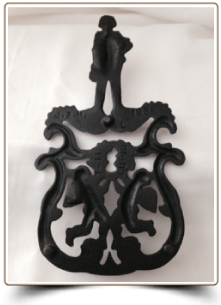 Angel Cast Iron Trivet – 1955
Heavy vintage trivet designed with a Colonial Man on the top handle accented with two Angels holding flowers. This vintage trivet weighs 13.7 ounces and measures 4 ½" horizontal and 8 ½" vertical. These markings on the back of the trivet: Cupid 1955, J.Z.H., T – 11, L. According to the internet, J.Z.H. are the initials for John Zimmerman Harner who was behind the Union Manufacturing Company's line of metal ware, in particular, this type of trivet. (1 available) $39.50


Vintage Angel Trivet
Incredibly detailed and very unique Trivet with three Angels triumphantly playing horns, almost like they are announcing the arrival of the Lord. The vintage trivet is made of caste iron in a rich, black color and is very hefty in feel. I could not find another Angel Trivet like this design, it is very rare. (1 available) Size: 4" Round and Weighs 9.4 oz. $29.50 SOLD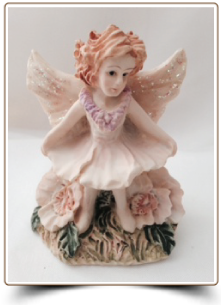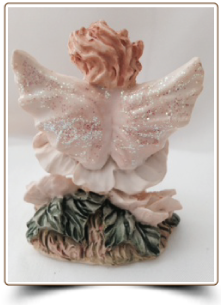 Sweet & Sassy Angel Fairy
The cutest little Angel Fairy painted in a lovely light peach color, highlighted with gold and silver sparkles. The Angel Fairy rests on a bed of beautiful flowers and her hair is in a lovely strawberry blond color. Weight: 2.7 oz. Vertical: 3", Horizontal 2 ½" and 1 1/2″ wide. (1 available) $19.50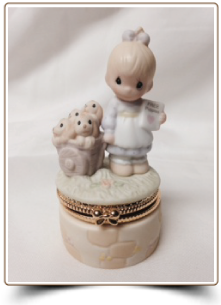 Vintage & Limited Edition "Precious Moments" Collectors "God Loveth A Cheerful Giver"
A collector's item trinket box featuring a little girl holding a sign that says "free puppies" with a wheel barrel of four puppies near her side. The little girl and the puppies rest on the top of a round trinket box that snaps shut with a gold ribbon design. Collector's Exclusive 1978, made in Indonesia. Inside the box is printed: Intro Year: 1978 Retired Year: 1981. Licensed by Enesco Corporation #495891. Vintage and over 33 years old and in perfect condition. The trinket box comes with the original cardboard shipping box with the label attached and the bottom of the box also has the original label. (1 available) $35.00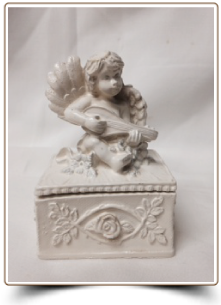 Cherub Playing Instrument Trinket Box
A Cherub boy is playing a vintage instrument while he proudly sits on top of a rose accented box. The two piece box is in a pretty and shiny ivory color which will help to highlight your precious jewelry that it will contain. Size: 2 ¾" Horizontal and 4" Vertical and Weighs 7.2 oz (1 available) $24.50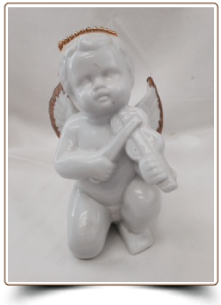 Angel Gold Trim with Halo
This ceramic and bright creamy white Pretty Angel boy is peacefully playing the violin. His wings are highlighted in gold and his Halo is trimmed in delicate gold beads. Size: 4" Horizontal and 6 ½" Vertical and Weighs 11.6 oz (1 available) $19.50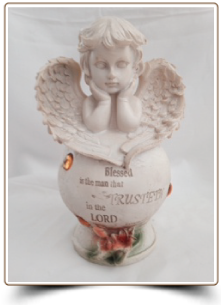 Blessed Ceramic Angel
Ceramic Angel with large wings resting her hands under her chin as she contemplates the following saying: Bless is the man that TRUSTETH in the Lord. The words are carved into the round base that is highlighted with three gold stones and accented with pretty pink and green flowers at the base. Size: 5" Horizontal, 8" Vertical, 4" Wide and Weighs 14.2 oz (1 available) $25.00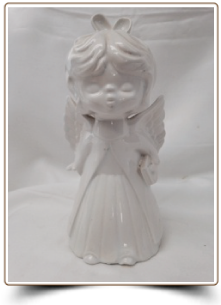 Adorable Angel Carrying a Book
SOLD:  What a sweet little Angel Girl carrying a book in her left hand. The creamy white ceramic angel learns forward in a playful way. The back of the Angel shows a ponytail and very wide Angel wings. Size: 3 ½" Horizontal and 8" Vertical and Weights 13.9 oz (1 available) Priced reduced from $24.50 to $19.50 because there is a small crack on the left toe that can hardly be seen.
SOLD

SOLD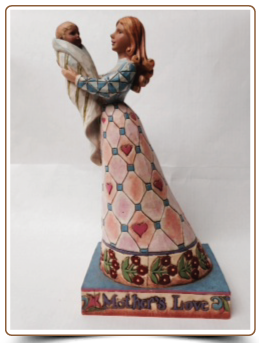 Mother's Love by Jim Shore
This lovely Mother's Love design captures the love between a mother and her child in beautiful
colors and style by Jim Shore. Jim is an award winning artist who teamed up with Enesco, a
worldwide leader in marketing gifts, collectibles and decorative accessories. According to Jim's
biography, in 2001, Jim and Enesco entered an agreement to create Heartwood Creek the line
of folk-art inspired accessories that has brought him world-wide fame. This agreement helped
to perfect Jim's unique style, combining elements of folk art with a vibrant color pallet applied
to traditional themes and his influence by his grandmother who was a master quilter. Mother's
Love stands over 9" tall and the base is 3" wide, weights 1 lb 3 oz and is in excellent condition
since it was kept in a collector's cabinet. This particular design can no longer be found on his
website and the base label indicates a 2006 date. (1 available) $39.50

Vintage Enchanto Co., California Ceramic Leaf Dish
This beautiful and classic leaf shaped dish is considered to be mid-century and was created by Enchanto Co Calif as indicated on the back of the dish. The vintage dish is very hard to find in the color of misty pink which is highlighted with delicate black specks and a stem that is in rich black. The entire dish has a wonderful glazed feeling and look. The size of the dish is 14" long by 5" wide, has a pretty curved design and weights one pound. The dish is in perfect condition and has a white spot on the back of the dish that was there from the time it was received as a gift. (1 available) $95.00

Vintage Abington Blue Shell Dish
This beautiful and very rare scroll-like vintage Abington Shell Dish is considered to be an Art Deco piece vintage around 1940. The color of this classic dish is in a stunning and delicate baby powder blue. (The photo shows the dish darker). The dish is in fabulous condition with only normal wear on the bottom. The Abington marking is on the base of the dish as Abington USA. The dish weights 3 lbs and 11 oz and measures 14" in length and 9 " side. (1 available) $150.00

Angel White Ceramic Mug by Bergschrund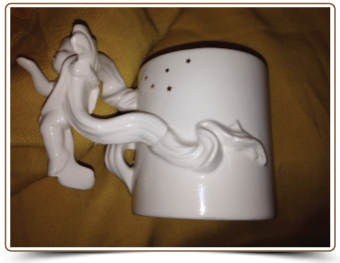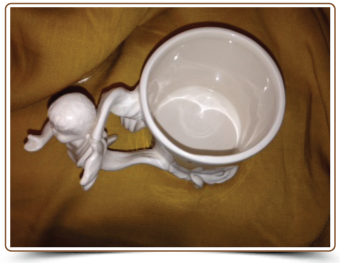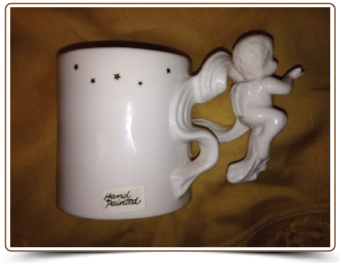 SOLD:  This beautiful and vintage Angel Ceramic white mug, hand painted with gold stars, was designed by Bergschrund, Seattle @1990. I used to offer this mug at my Who Makes Sense? store in Los Angeles over 24 years ago, and it was a favorite of my clients. The style is unique because the hands of the angel are extended out, almost greeting you as you have your morning coffee. (1 available) $19.50  SOLD
SOLD

SOLD

St. Michaels House Green Pitcher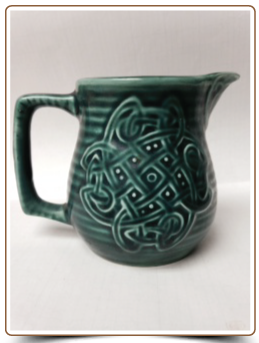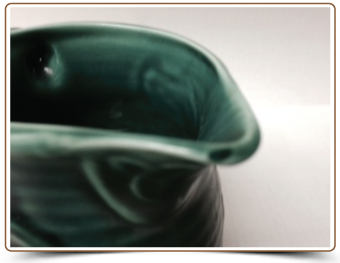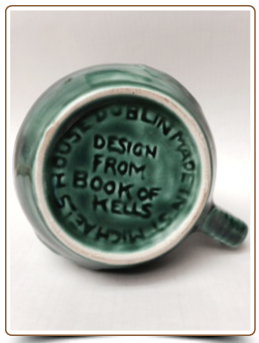 Intricate Celtic designed pitcher in a deep and rich green color with shadows of black. The engraving on the base of the pitcher states: Made in St. Michaels House Dublin – Design from Book of Kells. The pitcher was manufactured in Ireland and is in excellent condition. There is a little spot of dark green indentation at the lip of the pitcher. It is not a scratch but the indentation is inside the mold itself. The dimensions of the pitcher are 4" tall and 2 ¾" wide and weights a little over 7 oz. (1 available) $135.00


Vintage Royal Haeger USA Vase
This vintage art deco Royal Haeger Vase is in the very rare color of Bright Orange with a textured effect in the pattern. The vase will definitely make a statement in your living room or office. I have not found this Bright Orange color in this style in any publication to date. The unique design reflects a very elegant and distinctive shape. The exterior has a shiny finish in orange and the inside has a creamy white color. Please note that the handles on either side of the vase were molded as the vase was created and were not added on. The vase has no chips or nicks. The inside has some stains from years of holding beautiful flowers in its possession. I did not try to remove the stains so as not to hurt the internal finish. There is a slight darkening spot on one side of the base due to age, flower stain or it could have been in the vase from its creation. The vase is 11" tall and has a 3" x 3" opening at the top of the vase. The bottom of the vase indicates RG-137 Royal Haeger USA for authenticity, and the year is estimated to be around 1940. Again, the Bright Orange is a very, very rare color in this vase design. (1 available) $125.00

Vintage Wm Frazier California Casserole Dish
What a fabulous mid-century Casserole Covered Dish by Wm Frazier, California that is perfect for the collector of vintage California pieces. Not much is known about the Frazier Company but the piece could be from 1950 to 1960. This beautiful piece in the 50's color of Chartreuse is in mint condition and the glaze is still shiny and bright. The bottom of the dish has these markings in the mold: Wm Frazier California. The bottom of the top has one large hole under the knob and three little pin holes as part of the creation process. The bottom of the bowl has normal wear due to age. The bowl size is 7 ½"L x 2 ½"H and with the lid 8 ½"L and 1 lb 14 oz. (1 available) $95.00

Vintage Regal Mallard Ceramic Planter
I just love this whimsical Regal Flying Duck Planter that is just perfect to display an ivy plant that likes to trail down the sides. As a kid, I remember that everyone in the neighborhood had one of these planters on the top of their TV sets or book cases. The planter is marked with the Regal markings and the number 314-USA. The Platter has a smooth and shiny fired on finish and the Mallard is in rich green colors and the base a creamy white. The Planter is in excellent condition with only the normal wear on the bottom of the base where time has made its imprint. Great gift for that special "outdoors" person in your life. The size is 8 ½" tall by 11" wide. (1 available) $79.50

Vintage California Style Serving Set
Very unique and rare California 4 piece vinrage ceramic serving set. The bottom of the dish has these markings in the mold: Cal. Style. 2936 U.S.A. The lid is also market with the #2936. The set was designed with the vibrant colors of mustard yellow and orange around a base of rich browns and tans. The set has five divider compartments for holding dips, relishes and delicacies with the middle section having a lid. In addition, the set comes in four pieces – two sides and the middle section with a lid. The set is in excellent condition and the glaze is very vibrant and shiny. The bottom of the set has a little wear due to age and from resting. The serving set is great to take out for the Holidays or as the centerpiece on your dining room table. Great piece for the collector of vintage California pottery and ceramics. The set measures an impressive 16"L x 15"W x 5"H and weights over a sturdy 7 pounds. $95.00

Very Rare & Vintage Fawn Near The Stump Cookie Jar * Made in the USA – American Bisque/Ungemach
Collectors of Cookie Jars say that they collect because it reminds them of their childhood and of the wonderful time they spent with their families growing up. Vintage cookie jars are not only good investments but they are investments in our childhood. This rare and vintage USA American Bisque Ungemach Fawn Near the Stump Cookie Jar is thought to be Pre-1970. The jar has seen a lot of wear and has spider cracks in the inside and outside of the jar, as well as light brown discolorations on the bottom, rough spots from the lid being taken off so many times for cookies, some chipping around the lips. In perfect condition, Fawn Cookie Jars are selling for $350.00, however, because of the family wear and love this jar has experienced over the years, the price is considerably less. (1 available) $95.00.

Vintage McCoy Hand Painted Clown Cookie Jar
This vintage collectable cookie jar from the 1940's has the McCoy logo embedded into the bottom of the jar, produced by the Nelson McCoy Pottery Co. The design is a happy clown with a ruffled collar, a very big smiley face and painted highlights. I must admit that as a kid this cookie jar scared me, and I thought it was a little creepy. However, my sister would laugh at me because she loved this jar and all the cookies it would hold. The jar has seen lots of love, family time and many washings. No noticeable chips but it does have discoloration on the outside and inside from age and being exposed to the elements, as well as some fading of the paint colors. The jar measures 8"L x 7"W x 10 ½"H and weights over 3 lbs and 11 oz. Priced reduced to $59.50 because of the wear but it is the perfect price to own a 1940's collectible from your childhood. (1 available)

Mikasa Anniversary or Birthday "50th" Plate
This vintage and elegant porcelain Anniversary Plate has been discontinued by Mikasa. The plate is in perfect condition, never been displayed and is still in its original box. The 11" round plate was designed with a heavy gold trumpet like border around the outside rim and a thicker, more scalloped design in the inside of the plate. There is a beautiful "50" screened in the middle of the plate. The creamy white plate has a beautiful, raised floral pattern around the border of the plate. The plate can be given to a couple celebrating their Golden Anniversary or someone entering their 50th Birthday year. The original box is slightly worn due to age and storage. A truly memorable keepsake. The plate is stamped on the back: L5535 Golden Anniversary Japan-E. (1 available) $35.00

The Art of Chokin Happy 50th Anniversary Plate
This exquisite plate is an original from the Chokin Art Collection created with beautiful painted Wedding Bells and engraved with the words "Happy 50th Anniversary". The 6 ½ "plate has a 24KT Gold Rim and is stamped on the back in gold with the history of Chockin Art. Chockin is the ancient Japanese art of engraving copper and gilding it with precious gold & silver & other decorative colors. The piece is in mint condition and never displayed. The original literature on The Art of Chokin is included, slightly worn due to age. (1 available) $35.00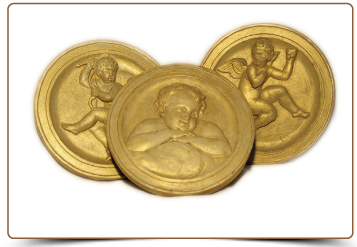 Vintage Angel Stone Wall Plaques
Three Angel Stone Wall Plaques that are over 20 years old, have different views of happiness. The Plaques have slight roughness and digs in the material and around the edges that help create a vintage look and feel and have been hand brushed with an antique wash in gold and ombre. The 3 styles measure 9" round – ½" thick and weigh 3 pounds each and are great for hallways or outdoors. Each Plaque has an extra duty hook embedded in the stone just perfect for hanging. (0 available) $49.50 each.  SOLD
SOLD

ALL 3 SOLD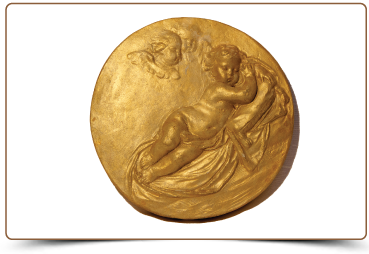 Vintage Three Cherubs Stone Wall Plaque
This Cherub Stone Wall Plaque that is over 25 years old has three beautiful Cherubs in the design of the Plaque. One Cherub is resting on a bed of cloth and two Cherubs are lovingly watching over the sleeping Cherub. There is a slight roughness around the edges and in some areas digs in the material that helps create a vintage look and feel. The Plaque is hand brushed with an antique wash in shiny gold ombre. The extra-large Plaque measures 10 ½" round and weighs 8 pounds and has an extra duty hook embedded in the stone for hanging.  $59.50
SOLD

SOLD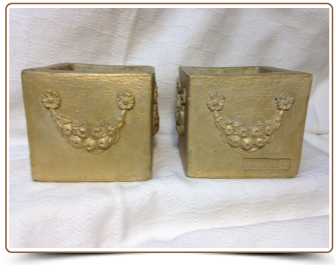 Vintage Ceramic Planters
This beautiful pair of Ceramic Planters were created by Nina Studio, Quakertown, Pennsylvania are over 20 years old and are just perfect for holding your favorite flowers or small vines. The Planters are made of a ceramic material and have a goldish color finish. The 4" x 4" x 4" Planters weighs almost 4 pounds each, and have a hole in the bottom for drainage, and come with a cork in each planter. The look and texture of the Planters will add a vintage look to your garden and home. $79.50 for the pair of discontinued and hard to find Planters.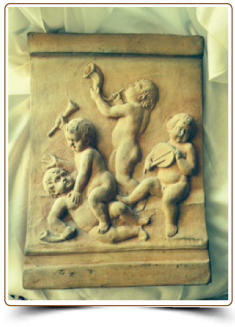 Four Angel Boys Playing Wall Plaque
A whimsical stone wall plaque great for the back yard or your terrace. Very rough and weather worn with a few nicks and gashes……..great for the collector……a hefty 16 pounds of boys frolicking. Hand brushed with an antique wash of burnt clay and ombre and measures 10"L x 14"H x 1 1/2". (1 available.) $79.50 reduced from $129.50 SOLD
SOLD

SOLD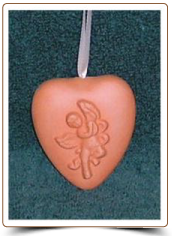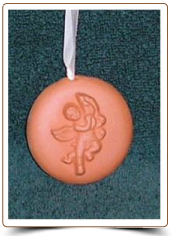 Angel Ceramic Diffusers
These adorable ceramic Angel Diffusers were created as the perfect diffuser to promote your favorite fragrance or essential oil. There is a small orifice in the back where a cork is inserted and the fragrance is added. The terracotta Angels hang perfectly with a 4" white ribbon and measure 2 ½" x 3" each. Hang in your bedroom, bathroom or use as an ornament on your Christmas Tree. (5 of each Angel style available) $12.50 each