Vintage Clothing   *   Cosmetics   *   New Finds
Vintage sweaters, jackets, purses, hats and dresses will be featured, as well as fur stoles and coats. Since vintage and designer clothes are all the rage, this section will be fun to browse so check back frequently.  If I find any new items that I think will  peak your interest, such as cosmetics and cosmetic accessories, I will include them for your pleasure.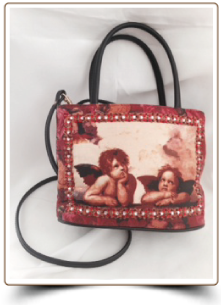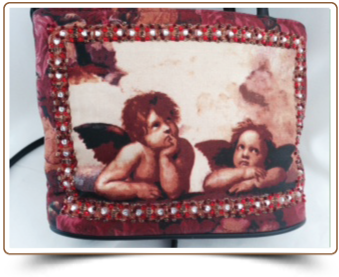 Angel Purse featuring Raphael's Cherub Babies
An adorable combination hand and shoulder purse created with Raphael's Angel Cherub Babies from the Sistine Chapel is a hard-to-find item. The beautiful image is printed on both sides of the purse with red and clear colorful stones accenting one side of the bag around the Angels. The purse is lined in a cobalt blue fabric and has a middle zipper pouch as well as a side inside zipper. The long, leather-like black shoulder strap is 22" long and removable while the clutch straps are permanent. Bag Size: 9" Horizontal and 6" Vertical and 2 ¾" Wide. (1 available) $49.50
SOLD

SOLD

St. John Sports White Denim Pants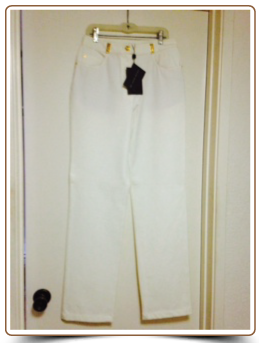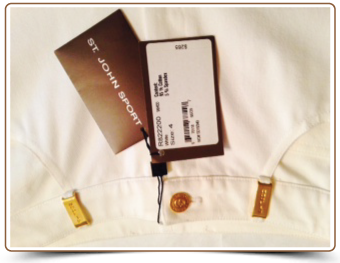 These St. John Sports Pants are in a beautiful summer white color and are classic and casual in their presentation. It is believe that the pants were part of the Marie Grey Resort Line. The pants have never been worn and will arrive with the original hang tags and pricing along with an extra clear button. The fabric is 95% Cotton and 5% Spandex created for the perfect feel and fit. The pants have a front zipper and there is a gold metal button with the words St. John around the button. Also, there are six belt loops, two in the front and four in the back of the pants. The two front loops are made with a gold metal plate that covers the loops and the St. John logo is embedded into the plate. There are three pockets on the front of the pants (two regular and one little pocket) and two on the back of the pants. Size 4 Regular, Made in Mexico by St. John De Mexico. Directions: Professionally Dry Clean, Cover Hardware, Low Heat, Low Moisture. The pants have a retail price of tag of $265.00 from over fifteen years ago (current value of similar pants is $395.00).    (1 available) at the reduced price of $195.00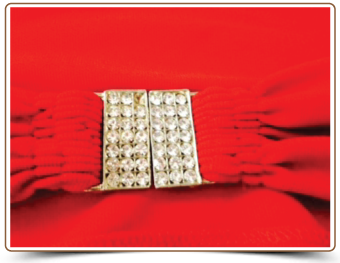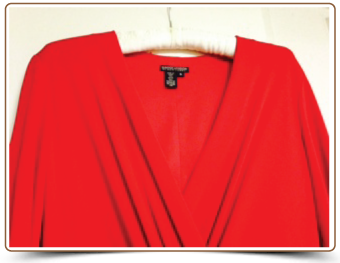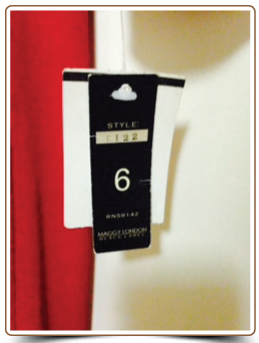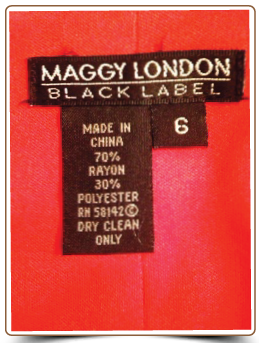 Maggy London Black Label Scarlet Evening Gown
This beautiful Maggy London, Black Label evening dress has never been worn and arrives with the original hang tags indicating a size 6. The dress is in a very vivid and vibrant majestic scarlet color with the style of a dramatic V neckline. In addition, there is a sensual slit in the middle on the front of the dress to add more drama and style. The matching belt links in the front with a faux silver and diamond clasp. The dress messages 58 inches long and the slit is 25 inches high. The Black Label dress is made of 70% Rayon and 30% Polyester and should be dry cleaned only. The original price on the hang tag is $176.00 which had been reduced to $131.99. (1 available) at the reduced price of $95.00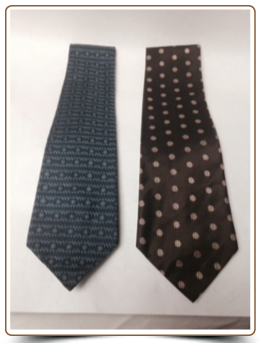 Vintage Men's Neckties
Two vintage men's neckties that will take you back to the 50's and 60's. They both came from a container that was found when closing down my family's home so the years are accurate. In addition, neither neckties have been worn since they were still in their gift boxes to my Dad. The blue, navy, black patterned tie on the left is from the 1955 period and is 51" long and about 3 1/2" wide. There is a hang tag on the tie that indicates it was from Laurant Originals. The fabric is believed to be a combination of acetate & rayon which was typical at that time. The brown tie with beige polka-dots is from the 1960 period and is 53" long and 3" wide. The fabric is labeled as 65% acetate and 35% rayon. (1 available of each style) $19.50 for both


Vintage Albanese Sweater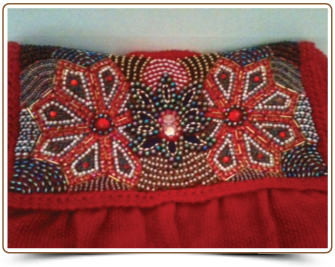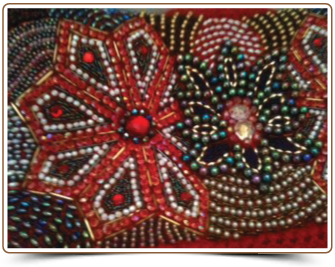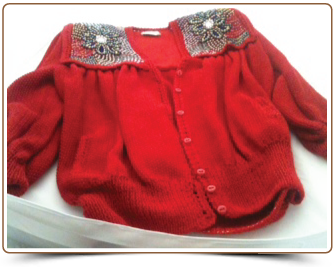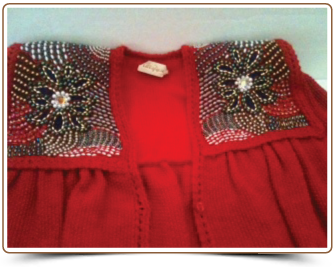 When I worked at Max Factor/Revlon around 1990, I would go to New York City on a regular basis for meetings. I used to stay at The Regency Hotel on Park Avenue and 63rd Street. On one of my trips, there was a last minute event that I had to attend, and I didn't have an appropriate outfit. Remembering there was this fabulous little shop about two blocks from the hotel, I ran in and purchased this gorgeous, beaded Albanese Roma sweater and a pair of elegant, black shoes from Italy. The shoulders on this vintage sweater have that Dynasty TV Show design, oversized with lots of form fitting padding. This incredible Italian red sweater with the cable stitching is absolutely stunning with beautiful beading in an array of regal colors: fiery red, cobalt blue, brushed gold, pure white and evening gray. At the center of the beads on the shoulders is a flower design surrounding a clear glass stone. The back of the sweater has the same detailing with the added highlight of a double diamond design. The sweater closes with seven delicate, red buttons and has two small invisible pockets on either side of the sweater.Since the sweater was a little too big on me, I packed it away after only wearing it once for a few hours. Remembering the sweater after all these years, I tried it on and was disappointed to see that the sweater still does not fit me because my shoulders are too small to carry such a powerful and "statement" design. The little shop has been closed for years and this vintage sweater looks like it belongs in a museum. I know that there is someone who will appreciate the detail of the sweater and will wear it on very special occasions. The gold and brown label says Albanese Roma with the little hammer in the middle of their logo. Since there is no size on the sweater, I estimate that it is a medium size. The sleeves are 23" long and the sweater weighs 1 lb 14 oz. Included is a small package of beads, red thread and a red button for touch ups. (1 available). Originally priced over $1,000 in 1990, now $795.00 because I want to find this gorgeous sweater a new home.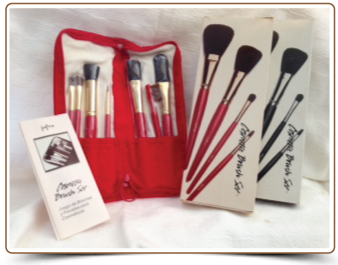 Vintage Jafra Cosmetic Brush Set
The Cosmetic Brush Set is a vintage Jafra exclusive from 1980's. The Set includes seven (7) natural hair brushes with wood handles, for perfect make-up application every time. Everything you need to beautify your face, cheeks, lips and eyes is included. Each brush is designed for a specific use and will give you a professional look to your make-up. Carry all seven brushes in the cotton quilted, Chinese red travel case for beauty touch-ups anytime, anywhere. (1 available) $39.50