Holidays * Holidays
Collectibles that celebrate the various Holidays throughout the year will be featured. Festive frames, Christmas ornaments, Valentine's hearts, Easter dishes and Halloween novelties will be some of the items offered. This will be a fun-filled section, and for your enjoyment, items will be added as they are found throughout the year.
Lighted White & Gold Angel with Optic Wings – Electric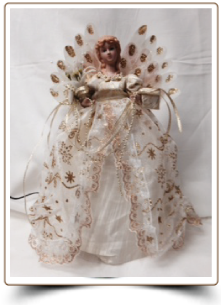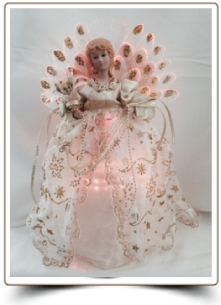 Beautiful Angel with her Optic Wings spread so full of light as it sparkles and flashes while it rotates around the wings. The vibrant angel is holding a bouquet of flowers that also radiate light that extends down the length of the dress. Her dress is made of white chiffon highlighted with gold stars and swirling designs. The Angel can be used as a Tree Top or a Table Decoration with its 66" cord that connects to an AC adaptor. She is in excellent condition and weighs 13 oz and stands majestically tall at 13" tall and 8" wide. (1 available) $79.50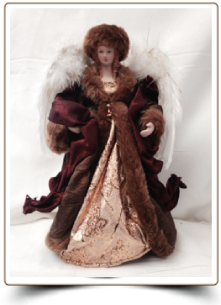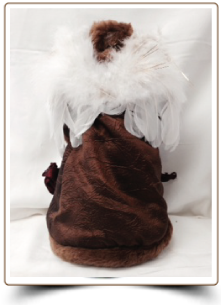 Vintage Angel Tree Topper with Feather Wings
This very fashionable Angel Tree Topper was created with decadent brown fur and burgundy & brown fabric highlighted with a dramatic inlay of gold shiny fabric. The wings are made of both white feathers and fur where gold strands have been weaved. What a wonderful way to top your Christmas Tree or use her as a wonderful Table Centerpiece. The chic and stylish angel weighs 7 oz and stands a very elegantly 12" Tall and 8" Wide. The original price was $79.50 but due to the inside plastic stand having some tape remnants, the price has been reduced to (1 available) $65.00.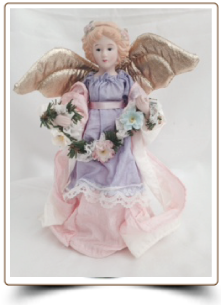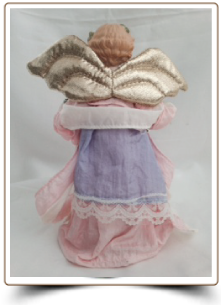 Vintage Angel Tree Topper
Vintage Angel Tree Topper created where the pretty Angel head and hands are ceramic and the wings are made of gold shiny and puffy material. The Angel's dress is made of colorful fabric in the colors of lavender, pink and white as she holds a string of flowers. The Angel sits on top of a plastic cone so the Angel will fit properly on the tree top. The vintage Angel Tree Topper was purchased at the Pranges Department Store that was founded in 1887 and merged with the Yunkers Chain after 1992. The original price from around 22 years ago (or more) for $22.00 (sticker inside the cone). Size: 6" Horizontal and 8" Vertical. (1 available) $39.50 
SOLD

SOLD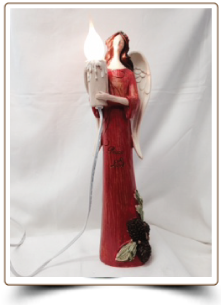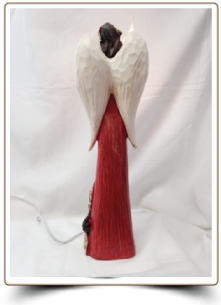 Peace & Love Ceramic Candle Light – Electric
A tall and elegant Angel holds a lighted candle lovingly in her arms. The Angel is painted in the vibrant color of Holiday red engraved with the words "Peace & Love". A festive design of holly and pine cones adorn the bottom of her robe. The candle is electric with a convenient on and off switch. The Angel weighs 1 lb 6 oz and is 14" Tall and 4" Wide. (1 available) $99.50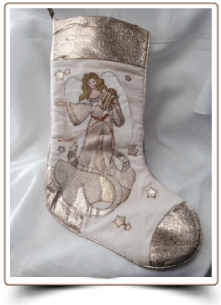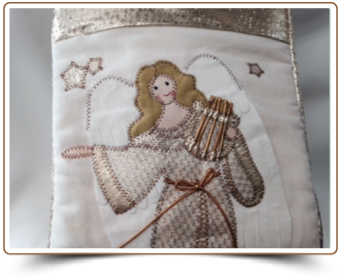 Angel Quilted Christmas Stocking
A beautiful, oversized Angel Christmas Stocking made in a quilt style using shiny gold lame fabric to create the smiling angel and the floating stars. The Angel is highlighted with a rich coppery gold string for the bow and harp. The creamy background fabric feels almost like lite faux suede. The back of the stocking is made of a creamy cotton material. Size: 7" Horizontal and 17" Vertical and weighs a little over 3 oz. and is perfect for hanging during the Holidays. (1 available) $35.00
SOLD

SOLD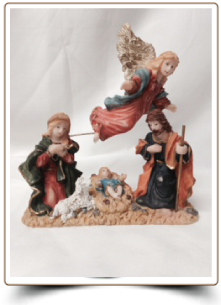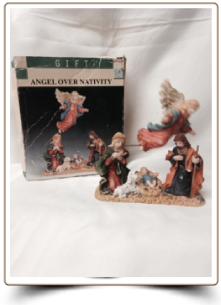 Vintage Angel Over Nativity
A very unique Nativity scene where the Angel is flying over Mary, Joseph, Baby Jesus and a sheep while in the stable. The Angel is suspended by a heavy wire that is hooked onto the back of the scene. The Angel also moves up and down when you touch the wire or the Angel. The scene is in good condition except for the Angel's right toe which has slight damage but is not noticeable. Size: 6" Horizontal and 6 ½" Vertical and 3" Wide. Weighs 14.1 oz. (1 available). The price has been reduced from $59.50 to $49.50 due to a small issue with the toe of the flying Angel.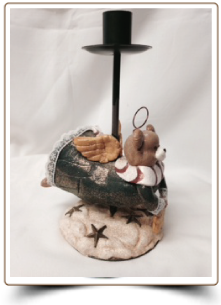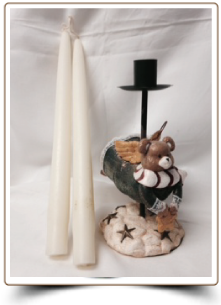 Adorable Angel Bear Candle Holder
The lady bear has taken on the look of a flying angel with her colorful gold frosted wings while she holds a gold star in her hands. While floating over a snow mound of stars, the candle holder is centered in the middle of the Bear. Two long burning beeswax candles are included for your enjoyment with the holder. Size: 5" Horizontal and 8" Vertical and Weighs 1 lb 5 oz. (1 available) $29.50 for the set.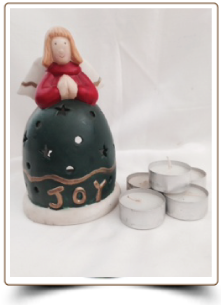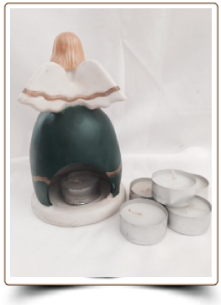 Praying Angel Candle Holder
Ceramic Angel in wonderful colors of cobalt blue and white where the Angel has a red shirt and bright yellow hair. This unique bell shape Angel actually holds a Tea Light Candle that shines brightly through the stars on the Angel's skirt. Size: 6 ½" Horizontal and 4" Wide and total weight is 13.4 oz. Six (6) unscented tea lights are included for your enjoyment. (1 available) $29.50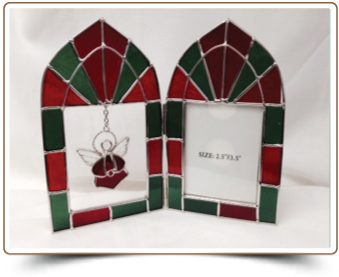 Stained Glass Frame – To hold Size: 2.5" x 3.5" Photo
Adorable Stained Glass Angel hangs on the left of the frame and the right side holds a 2.5" x 3.5" photo……great to hold your Holiday pictures. (1 available) $24.50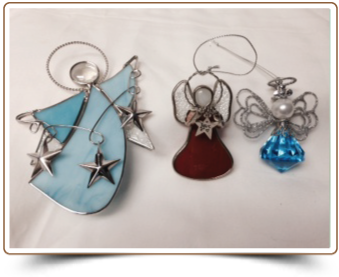 Assorted Stained Glass Angel Ornaments*
A group of very whimsical and exciting Angel Ornaments that are just perfect for either hanging on your Holiday tree or mantel. (1 available of each) Total price for the group: $39.50
*Large metal Angel with lovely blue glass highlighted with three adorable hanging Angels. The back of the Angel also has a hook on type snap for latching onto a bottle.
*Cute metal Angel with a rich burgundy stain grass background highlighted with an Angel between her hands.
*The most adorable Angel with frosty wings and a halo. The base of the Angel is a beautiful Blue Zircon that can be used as an Angel Birthstone Ornament for December.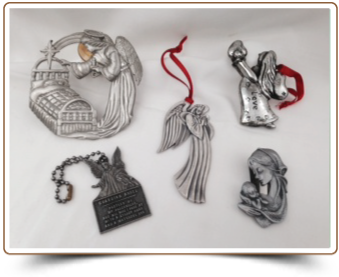 Assorted Angel & Mother Metal Ornaments*
SOLD:  Grouped together are five pewter and/or metal pieces that are just wonderful for the Holidays to hang on your tree, mantel, and refrigerator or to keep track while reading your favorite book. (1 available of each). Total price for the group: $59.50
*Angel Praying Ornament: Sleek and heavy praying Angel with red ribbon for hanging. Size: 2 ¾" Horizontal and 4" Vertical and Weights 1.8 oz.
*Angel Praying Over Child's Bed: A very moving moment captured as a heavenly Angel protectively looks over the bed of a sleeping child. This unique design has a plastic plug on the back so the piece can be attached to a metal cabinet. However, since the piece is on the heavier side, you might want to hang this lovely moment instead. Size: 3 ¾" round and Weighs 3.1 oz.
*Flying Angel With a Heart – Love and Life: Inspirational Angel from Cobble Creek with the words "Love/Love" engraved on either side of the flying Angel. The Angel comes with a red ribbon so the Angel can be hung. Comes with original box. Size: 2" Horizontal and 3" Vertical and Weighs 1 oz.
*Mother Angel & Baby Book Clip: Adorable book clip depicting a Mother Angel holding a sleeping baby. The perfect clip to keep your page while reading your favorite book. Size: 1 ½" Horizontal and 2" Vertical and Weighs 1 oz.
*Guardian Angel with Chain: The Guardian Angel states: PROTECT ME, MY PASSENGERS, AND ALL WHO I PASS BY WITH A STEADY HAND AND A WATCHFUL EYE. Great piece to carry your car key or your home key for extra "Angel" protection.
SOLD

SOLD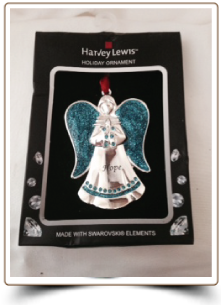 Angel Hope Holiday Ornament by Harvey Lewis with Swarvoski Elements
SOLD:  Stunning Angel Holiday Ornament made with Swarovski Elements. The beautiful Angel is accented with brilliant and rich deep aqua/blue Swarovski Elements on the wings. The silver-plated Angel is praying with the sleeves and skirt highlighted with six blue stones. The Ornament has a red satin ribbon, just perfect for hanging on your Christmas Tree or as Holiday decoration. The ornament has never been opened…….and the original box states: Swarovski Elements have more than a century of tradition and commitment to quality. They are expertly faceted and polished to reveal a fiery and magical brilliance. Weight: 2.1 in the box. Vertical 3 ½" and Horizontal 2 ½". (1 available) $14.50
SOLD

SOLD

Musical Angel Christmas Ornament Formalities by Baum Bros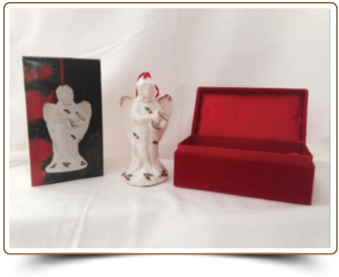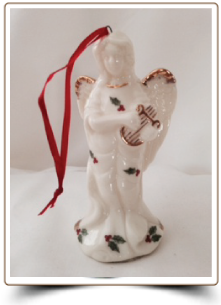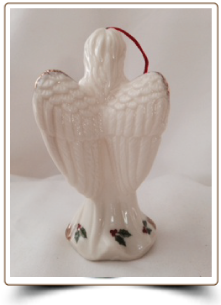 From the Ivory and Gold Collection, the Musical Angel Ornament plays Hark The Herald Angels Sing. The Angel has gold on the wings and on the harp and holly around the base and body. A red ribbon is anchored on the top of the angel, just perfect for hanging on your Christmas Tree. The Angel is nestled in a red felt box lined with red satin with the original carton sleeve around the box and base label. The Angel is in excellent condition, and we will include a fresh battery when purchased. Weight: 7 oz. Size: 5" Vertical and 3" Wide. (1 available) $29.50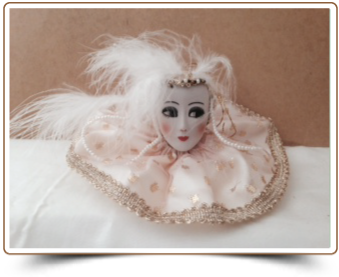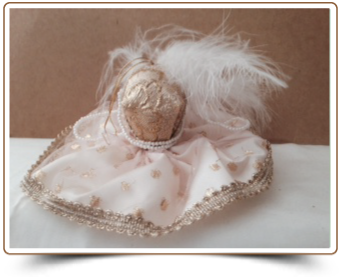 Lady Ornament for Hanging
Festive Theatrical Lady Ornament just perfect for Hanging or the Ornament can rest on a Holiday Table. The Lady was created with very dramatic eyes and cheeks. The fabric is beautiful creamy satin overlaid with gold tule highlighted with gold ribbon around the entire base of the fabric. Beautiful white beads hang around the head and shoulders on the vivacious lady. Weight: 2.9 oz. Round: 7" and Horizontal: 5" not counting the fluffy feathers. (1 available) $15.00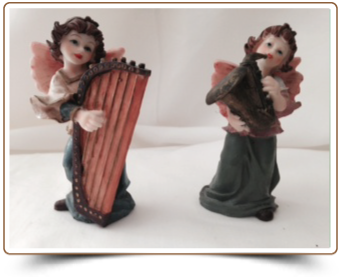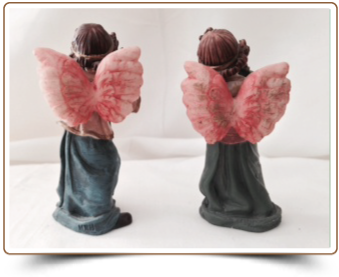 Adorable Porcelain Angels
These porcelain Angels were created with lots of detail and are just perfect to add to your Christmas Collection. The Angel on the left is playing a Harp and the Angel on the right a Trumpet. The colors are so soft and muted to make them look vintage in their presentation……..rose, peach, beige, forest green highlighted with a little gold. MHR series. Weight: 3.5 oz each. Size: Vertical 4", Horizontal 2" and 1 ½" Wide. (1 pair available) $35.00 for the pair.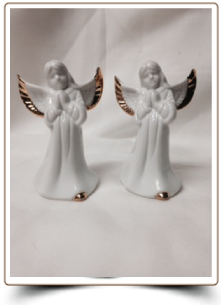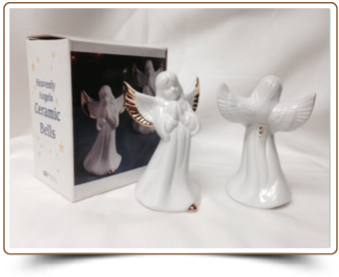 Heavenly Angels Ceramic Bells
Pair of vintage ceramic Heavenly Angel bells that gently ring when shaken is just perfect for the Holidays. The pure white angels are in perfect condition and are highlighted with gold trim on their wings and toes. The original shipping box is also included. Size: 3 ¾" Horizontal and both Weigh 5.7 oz. (1 pair available) $35.00 for the pair.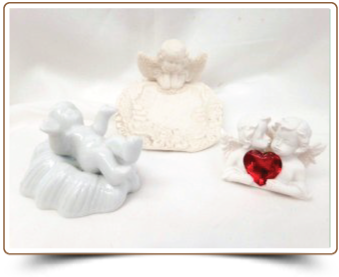 Assorted Angel & Cherub Designs
Grouped together are three Ceramic Angels* that are fun and adorable to have around your home or can be used as Stocking Stuffers or can be tied onto your Holidays packages. (1 available of each) Total weight together: 13.6 oz Total price for the group: $19.50
*Cherub Porcelain Soap Dish: Creamy white dish with a sweet Cherub resting on her elbows as she takes a much needed nap. Delicate flowers surround the soap dish.
*Baby Jesus on Manger: A delicate Ceramic little baby resting on a bed of straw.
*Angels Kissing With Heart: How adorable! Two kissing Angels while holding a big red Heart.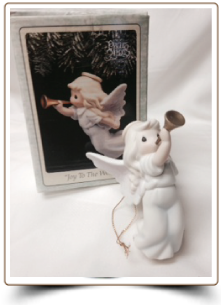 Joy to the World Precious Moments Angel Ornament
Beautiful porcelain Precious Moments Angel ornament designed by International Artist Sam Butcher triumphantly plays the trumpet as she hangs heavenly with a gold string. The ornament is in perfect condition and in its original Shipping box. Enesco #150320 Precious Moments 1995. Size: 4" Vertical (1 available) $19.50


Precious Moments April Angel
An adorable Precious Moments Angel created by International Artist Sam Butcher for the month of April where she is featuring a diamond stone on a wrist bracelet. The ornament is in perfect condition. Enesco #261300 Precious Moments 1995. Size 3 ¾" Vertical. (1 available) $19.50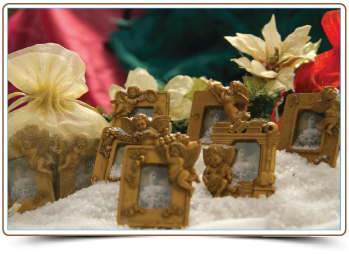 Angel Ornament Frames
Perfect as holiday ornaments to hang on your Christmas Tree, or as individual Hostess Gifts or Table Place Cards for your next dinner party (then let your guests take the frame home with them). Six (6) adorable faux wooden frames in a drawstring pouch. Designed with gold strings for hanging or as standing frames. Size: 1 ¼" x 1 3/4". $25.00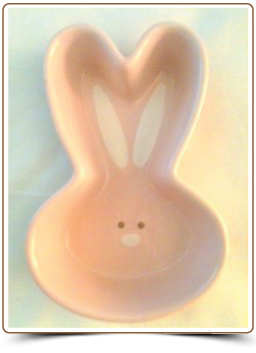 Bunny Treat Dish
An adorable Treat Dish in the shape of a Bunny with big ears is the perfect way to celebrate Easter. The dish is oven and dishwasher safe and has a shiny glaze that sprakles. This cute little bunny holds 7.4 fl oz (220 ml) of fun. This dish was found at Michaels many years ago but, unfortunately, the style is no longer available. Size is 4"L x 6"w x 1 ½"H and weights 9.2 oz. (6 available) $7.50 each


Angel Ceramic Diffusers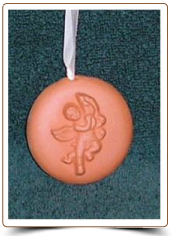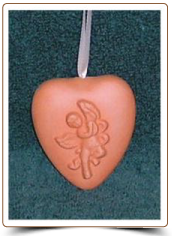 These adorable ceramic Angel Diffusers were created as the perfect diffuser to promote your favorite fragrance or essential oil. There is a small orifice in the back where a cork is inserted and the fragrance is added. The terracotta angels hang perfectly with a 4″ white ribbon and measure 2 ½" x 3" each. Hang in your bedroom, bathroom or use as an ornament on your Christmas Tree. (5 of each Angel style available) $12.50 each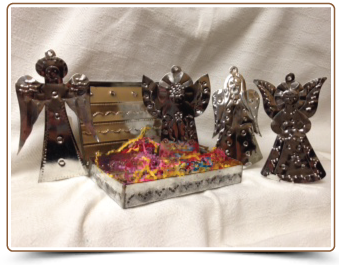 Set of Angel Tin Ornaments
This very unique and vintage set of 8 Angels was created over 25 years ago out of a shiny tin material in four different heavenly styles. The Angels are perfect for hanging on your tree of can be displayed as part of your Holiday decorations. The Angels are packaged in a tin box which has a tarnished, almost rusted finish due to its age.  (4 sets available) $35.00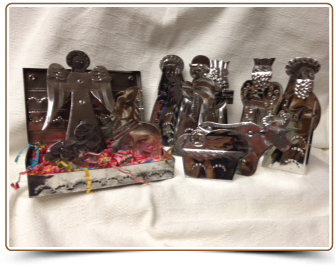 Set of Nativity Tin Ornaments
This very unique and vintage Nativity Set was created over 25 years ago out of a shiny tin material.  The set contains 10 precious tin ornaments that depict the birth of our Lord, and each ornament has a movable wire stand. The The Nativity ornaments are packaged in a tin box which has a tarnished, almost rusted finish due to its age. (6 sets available) $35.00